Services
Information Technology Management (MSP)
Land Mobile Radio Infrastructure

DMR - P25 - Analog
Conventional, Single and Multi-site Trunking
Dispatch console integration via control station or CSSI/DFSI/AIS wireline
Voice logging - System monitoring
Site surveys - Licensing and Regulatory compliance
DC plant & UPS maintenance

Public Safety - Station Alerting - Mobile Terminals - Apparatus Intercoms
Products
AHTR "Roto-Router" 4000 and 4050 now available for ordering.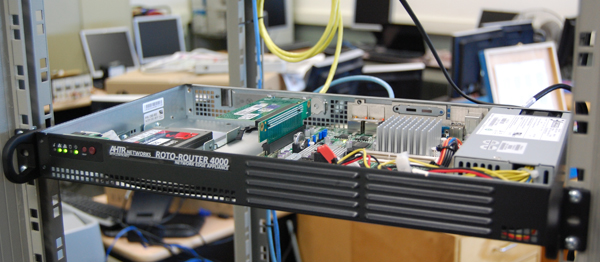 The AHTR 4000 and 4050 series are a line up of low-cost 1U rackmount network appliances intended for network edge gateway applications, intended for small business environments.
These are most suitable for SMBs which have outgrown the use of consumer grade "SOHO" network hardware yet cannot justify high-dollar, datacentre-grade equipment.
Built on commonly available off-the-shelf hardware, Intel Atom platform (x86_64), and FreeBSD, the device is fully expandable, customizable, and easily serviced.
Units come pre-loaded with FreeBSD 8 for further customization or can use packages such as pfSense for plug-and-play use.
One PCI express x16 slot is supplied for expansion with additional network interfaces, for example: Gigabit Ethernet single or multi-port, Voice Loop Start FXO/FXS ports, T1 cards just to name a few.
The conventional industry standard expansion interface allows use of any PCIe card from any vendor.

The 4000 model features rear-facing I/O ports and rear-facing IEC C14 power input.
The 4050 model features front-facing I/O ports and rear-facing IEC C14 power input.
DC power (12, 24, -48 volt) models available on special request.

For more information email kevin@ahtr.net
Support Contact
Email support@ahtr.net or call 1-780-851-6710 for assistance with existing services.